Welcome to The Retreat Costa Rica
A CRYSTAL MOUNTAIN WELLNESS RESORT, HEALING CENTER AND SPA
Experience the healing energies of a Costa Rica wellness retreat located in a rainforest and a crystal quartz mountain – a world-class, nature-inspired, holistic healing oasis that will nourish and renew your mind, body, and soul.
The Retreat Costa Rica is the innovation of celebrity chef, best-selling author, and health and wellness life-coach, Diana Stobo. Her goal was to create a transformational wellness center that has since become a distinctively Costa Rican experience of "Heaven on Earth" - a resort and spa where our guests experience a harmony of nature, nutrition, and wellness nestled among the lush vegetation of the rainforest.
We offer signature wellness programs, spiritual retreats, Ayurveda retreat, and gastronomic innovations among the soothing rhythms of nature and the stunning views of the tropical Costa Rican rainforest valley, Nicoya Peninsula, and the Pacific Ocean. Whether you're being pampered at Vida Mía, our luxury Healing Spa, nourished by a daily yoga class with one of our resident teachers, or savoring our organic, garden-fresh cuisine sourced from the crystal quartz mountainside, The Retreat Costa Rica is mindfully designed to strengthen, nourish, and renew you — carrying you from wherever you are – to wherever you wish to be!
Wellness Packages
TRUE WELLNESS PACKAGES TO ENHANCE YOUR RETREAT EXPERIENCE
To start the guest experience with a sense of relaxation, all of our pricing includes three meals at our restaurant, Sol Terrace: Nature´s Gastronomy. ​Our wellness packages and retreat experiences are designed for transformational results. Whether you are simply visiting to feel the vibrational healing of the Crystal Quartz Mountain, engage in a delicious healthy gastronomical experience, move deeper into your yoga practice, get back into nature by connecting on hikes through deep lush tropical mountains, or you wish to dive deeper into to detox, healing, fat burning, authentic Ayurveda or even reconnection with a loved one, The Retreat Costa Rica offers a package to meet your goals.
Organic and Fresh Everyday
Our menus are Chefs Choice based on what is fresh, inspiring, and thoughtful. We strive for 100% organic and fresh, with most of our produce grown on the property. We are primarily plant-based, with local, sustainably raised fish, fowl, beef, and lamb. All foods are grain-free, dairy-free (occasional goat yogurt and cheese) and use no refined sweeteners.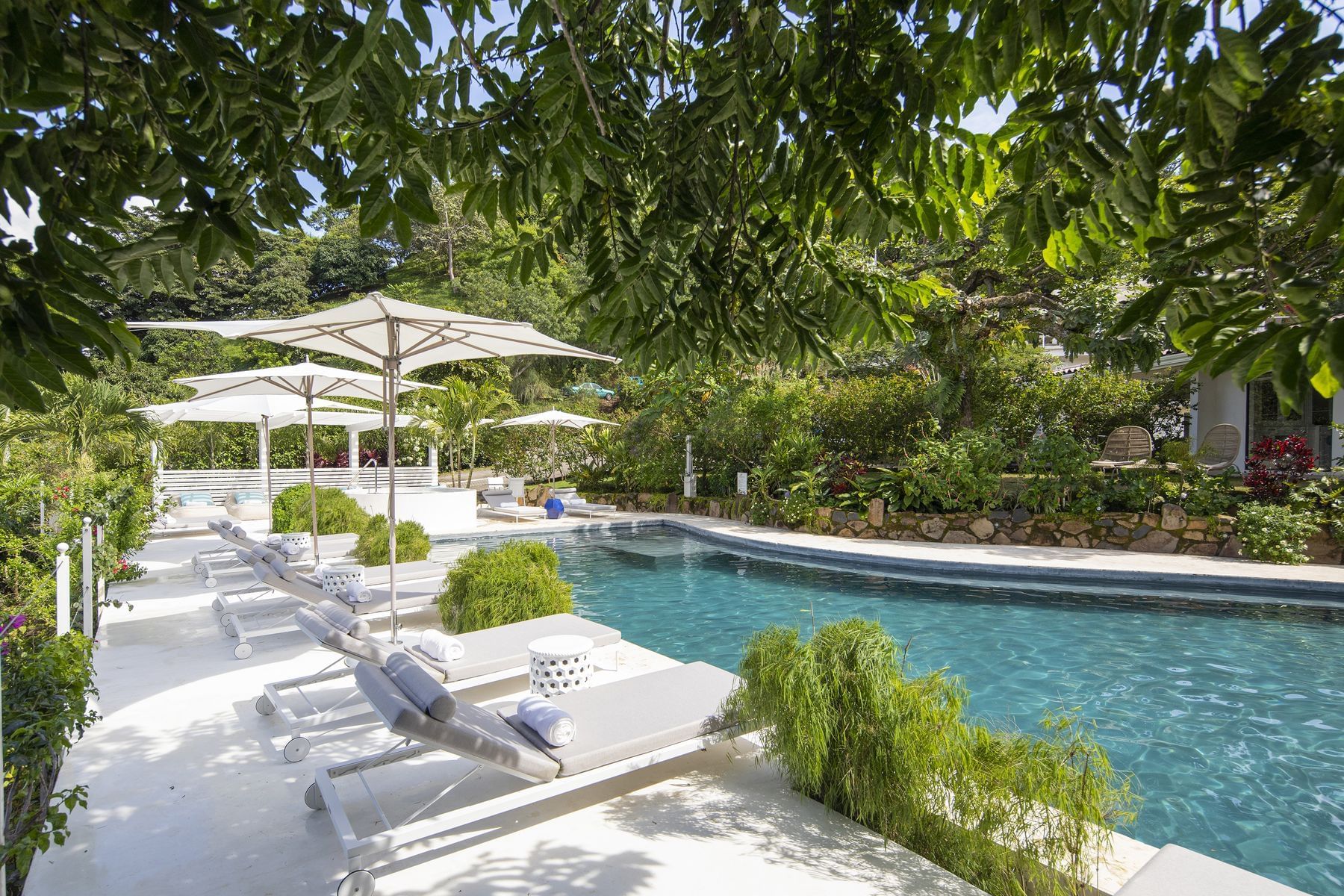 Our Accommodations
Our 18 rooms are simply and elegantly designed to calm the mind and relax the senses. Each unique room is named after the plants and superfoods grown on the property. There are no phones or televisions in the rooms so as not to disturb the peaceful, natural surroundings and sounds of the birds. Our bedding is lush, our amenities organic and natural. With each room having its own special properties, we have divided our rooms into three categories:
Deluxe Room
Cozy and comfortable, this room, Guapinol, have the charm of the home, set back the yoga studio against the lush mountain with private patio to put your feet up and relax. Guapinol room features a King bed option for a perfect place to catch up on some sleep.
Premium Room
Our premium spacious rooms: Maca, Mucuna, and Moringa, have a fresh ocean breeze flowing through. The expansive views of the valley to the Pacific Ocean can be enjoyed from the balcony from hanging chair swings.
Luxury Lofts
Our luxury lofts were built on the south-facing mountainside with views extending to the pacific ocean. These are our largest rooms at 690 square feet with an open floor plan and high ceilings: Mango, Mora, Aguacate, Limon, Papaya, and Piña give a feeling of floating on the mountain top from every angle of the room. These rooms feature luxurious King Size Beds a spacious balcony and a sitting area adorned with double hanging chair swings. They also feature a large bathtub surrounded by glass for bathing in a setting connected to nature.
Group and Retreat Buyouts
The Retreat welcomes groups for a customizable experience combining our wellness philosophy with your needs. Our gorgeous facilities are the ideal fit for executive retreats, sales incentives, fitness groups, speakers and spiritual practices (to name a few). As The Retreat quickly becomes home to our guests, we encourage you to bring your celebrations to this little slice of heaven of earth.
Visit Our Photo Gallery
Anticipate Everything that Awaits you at your Next Retreat In Costa Rica
Recommended By
Located amidst the mighty crystal mountain in Alajuela - Costa Rica, The Retreat Costa Rica Wellness Resort and Spa is an award-winning destination spa in Costa Rica,