Arenal Volcano, La Fortuna and the Adventure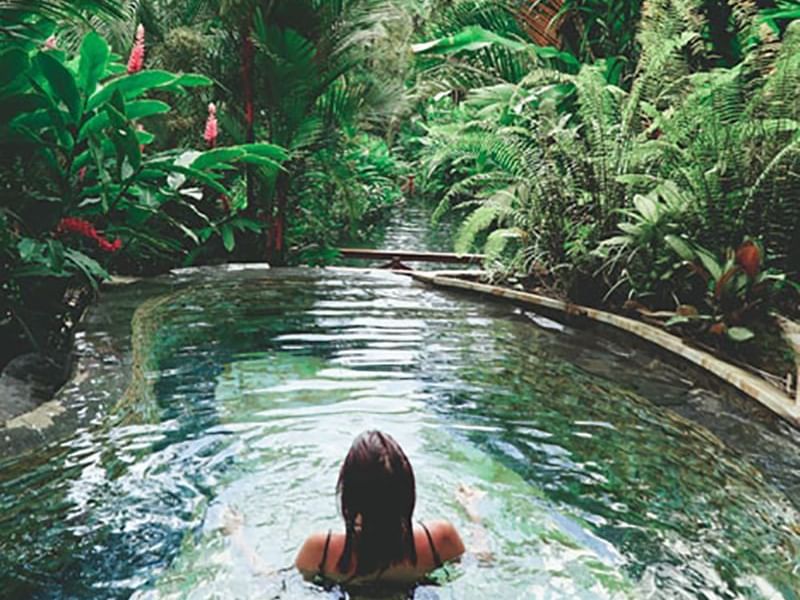 A customized all-day experience in the Rainforest.
It is a full day of a volcano, hanging bridges, giant waterfalls, and relaxing and mineralizing hot springs. Wake up bright and early and spend the day with our tour concierge in the rainforest.
The tour begins with a packed breakfast and a 2.5- hour drive to La Fortuna, where you will be able to experience one of the countries famous waterfalls. Prepare to get wet and have some fun. Then we will take you to walk across the amazing hanging bridge in Arenal National Park, (ask your tour guide for a hike up the volcano, the day is yours).
Then prepare for a delicious lunch special at The Springs and a dip in the thermal mineral pools that come directly from the vein of the volcano. The thermal waters flow daily with volcanic minerals that nurture the body, accelerating metabolism, cleansing and rejuvenating the skin, relaxing muscles, and regulating blood flow. Also, enjoy the playful water slides that bring out the child in everyone. The tour concierge will leave at 7 am and return at 8 pm for dinner at The Retreat.
​
Duration Full Day Plus (13 hours)
1ST PERSON $400
EACH ADDITIONAL $200