Dining
Replenish Your Body with Our Farm to Table Meals
Food Philosophy / Al Fresco Dining
Our menus are based on an anti-inflammatory diet and foods. We strive for 100% organic and fresh, with most of our produce grown on the property. We are plant-based, but also serve local, sustainably raised fish, fowl, beef and lamb. We are grain free, dairy free (occasional goat yogurt and cheese) use no refined sweeteners, and source locally and sustainably. We serve vegan and vegetarian options at any meal and offer an array of flavors and styles of cuisine, each menu is chefs choice based on what is fresh, inspiring, and thoughtful.
Organic Farm
Our farm was built on the south facing side of our crystal mountain. Just knowing the food is growing in the soil of crystal energy and being watered by our crystal infused spring water makes us all feel better about every bite we take. Of course, like all living things, it is a work in progress, and we have seasonal foods that we cultivate for our breakfasts, salad bars and evening meals.
You will also enjoy our fresh healing herbs in your drinking water and the frescos, elixirs and even our hand muddled cocktails. Ask to walk the garden with the chef, or just peruse solo and put your hands in the dirt to feel the energy and give a little bit of love to the plants. Healing energy is give and take.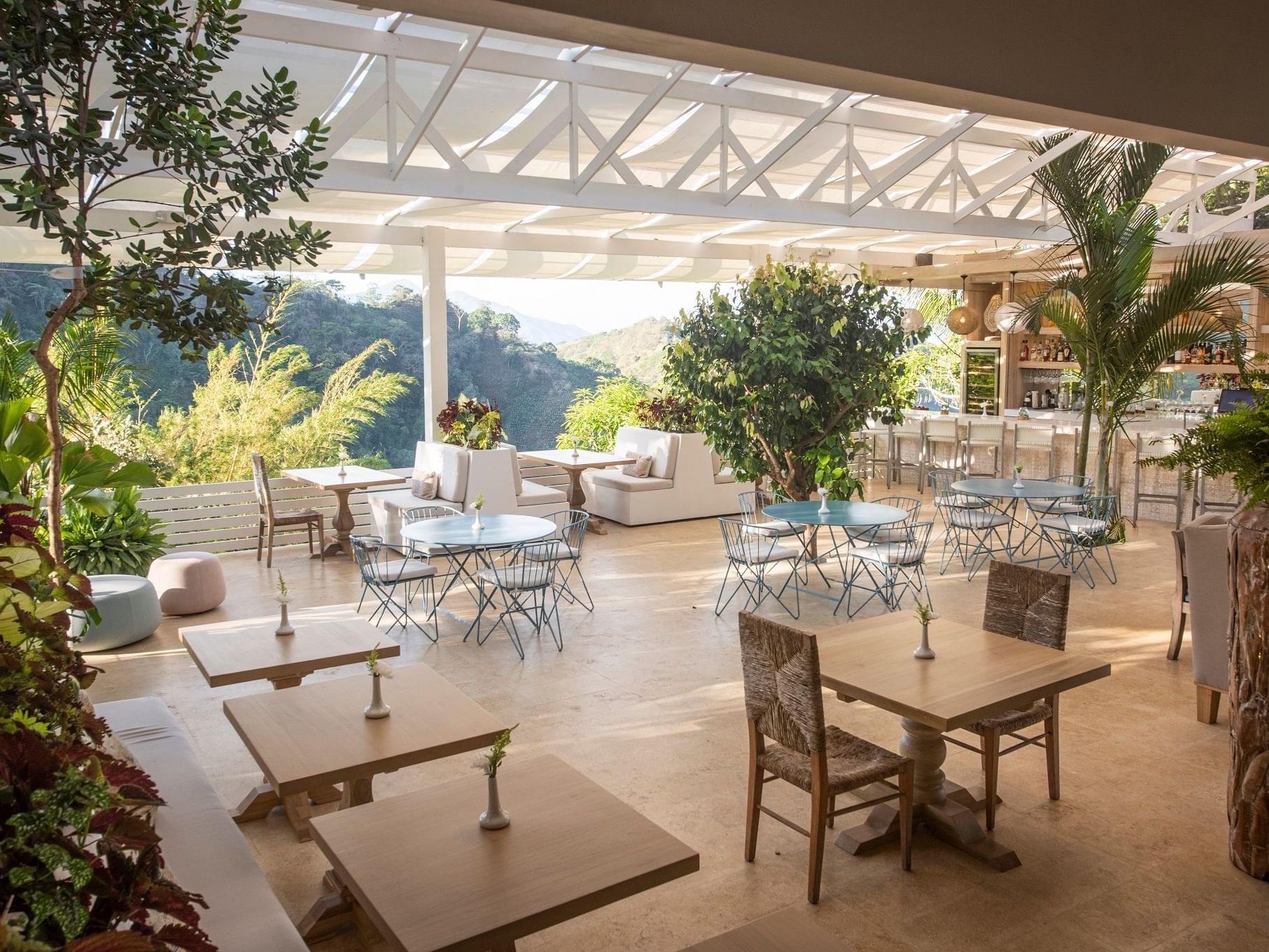 Sol Terrace: Nature´s Gastronomy restaurant, located above the expansive organic garden where 80% of the food is grown.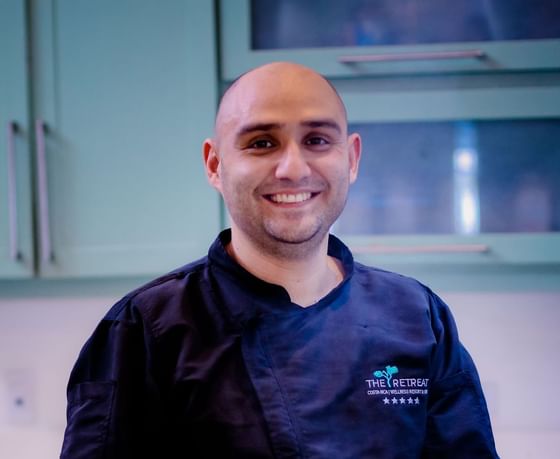 Sergio López
Sergio López joined our team after 6 years at The Four Seasons in Guanacaste. He brought with him a desire to learn the magic of healthy cuisine. His professionalism and innovative approach to clean eating has brought his signature to every dish.
The Wine and Handcrafted Cocktail Bar
Our house Sommelier brings a love and knowledge of wine along with the artistry of handcrafting garden fresh cocktails to our Sol Terrace: Nature´s Gastronomy. The Retreat has the largest selection of Organic and Biodynamic wines in Costa Rica from all over the world.
Our house Sommelier works very closely with our chefs to pair each meal with the proper wine choices. His fine mixology skills are crafted with the fresh ingredients from our cliffside organic garden just steps away from the bar.
Tarzan and Jane, our inspired Gin and Tonic named after our mascot Peacocks on the property.
Cooking Classes
Education is a key to long lasting health!
Our wellness cooking classes are taught 3 times a week by our chefs and inspired by our owner and award winning celebrity Chef Diana Stobo, French trained, raw food expert and healing foods advocate. This activity gives us the opportunity to teach many aspects of organic lifestyles in an exquisite setting. Classes in raw food preparations, herbal medicine making, fermenting, and sprouting are a few offerings of the curriculum which can be customized to maximize your experience here.
From the farm to the table, the foods that we eat and prepare can easily be found in your backyard garden, local markets and exotic food stores. However, technique is key to delicious meals, desserts, appetizers and even cocktails. From choosing the proper foods, to artistic plating, The Retreat teaches all aspects of preparing amazing foods that make you feel good.