Manuel Antonio National Park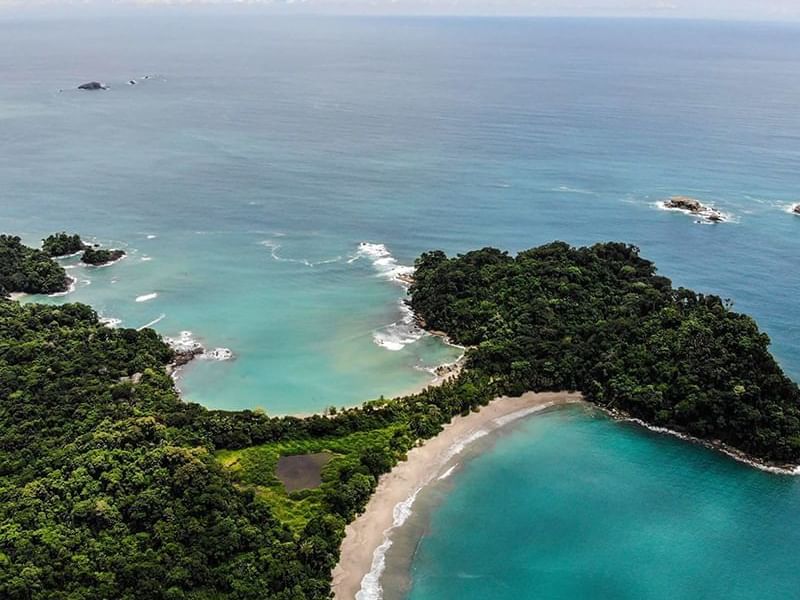 The Coastline and a National Treasure.
Immerse yourself in Costa Rica's tropical paradise as you hike the Perezoso trail through the depths of Manuel Antonio National Park. Keep your eyes peeled while the wildlife gets up close and personal as you meander through the rainforest, eventually making your way to the coast where the tranquil white sand beach awaits. Our tour concierge will leave the hotel at 8 am for a short 40 min drive through Orotina where he will stop on the side of the road to quench your thirst with fresh coconut water from a local stand. The first stop is the famous "Bridge of the Crocodiles" in the Tarcoles River, where we'll get out and see some of the largest man-eating reptiles.
Then we will drive through the famous Jaco surf beach, through Puntarenas and Quepos to arrive at World Famous El Avion for a delicious lunch on the balcony to the Pacific Ocean boasting the best views of Manuel Antonio. Discover how this fighter plane ended up in Costa Rica. After lunch, we will Enter the National Park, and bask in the beauty of nature, feel free to enjoy the uncrowded, pristine beach by soaking up the sun on the sand while eating some fresh fruit, or by jumping into the warm waters.
​Once you dry off, walk back to the hike's starting point, learning the history of the Quepos Indians and the Manuel Antonio region along the way. On the drive back, enjoy the landscape and views of the sunset. We return in time for dinner at The Retreat.
Duration ALL DAY 11 hours
1ST PERSON $450
EACH ADDITIONAL $250